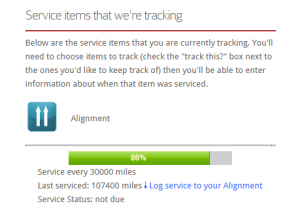 CarBot is an online vehicle maintenance and service tracker where you can make note of service that you've done to your car, truck or motorcycle.  You'll not only have a record of each maintenance item, the date of service, and the cost, but you'll also be alerted when it's time to to service that item yet again.  You won't have to worry about paying for unneeded maintenance just because you can't remember when it was last performed.
That sounds good, but can you give me some real world examples of what CarBot Tracks?
Oil changes – The classic vehicle service.  Don't be a slave to the little sticker in the corner of your windshield that never seems to stay put!
Tire rotation – Get more life from your tires by rotating them at set intervals
Transmission service – don't pay $100+ for transmission flushes just because the local garage says it's time.  Track this with CarBot and avoid unnecessary flushes.
Honest,

you can track unlimited items!
How can CarBot save me money?
A properly maintained car will last longer, run better, and use less fuel
Avoid paying for duplicate services because you either can't remember, or the garage suggests it's time.
Don't pay for services that you don't need yet.  CarBot and let you know if you're performing services on your car or truck that aren't needed yet.